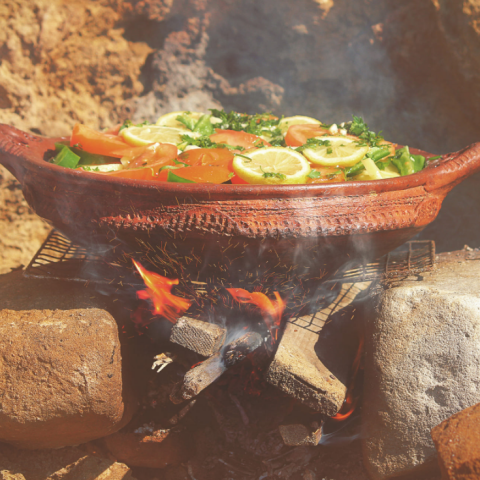 Visit our restaurants for a variety of Traditional Moroccan delights
Moroccan cuisine is known by its variety of dishes mainly inspired from Berber cuisine.
We offer you a selection of the most famous dishes by the hands of a chef in Moroccan gastronomy, From the spicy tajines and homemade bread to sweet treats and plates of steamed couscous, meaty brochettes and traditional grills, our menu is very rich of Moroccan traditional flavors that you can enjoy at will.
The Traditional Moroccan dishes that we serve are mainly made with fresh locally grown ingredients and an assortment of spices to give plenty of flavor.
You can enjoy our delights at will in our dedicated areas, traditionally decorated, you can relish your meal by choice either indoors or outdoors.
Outdoors
Outdoors
Located on the foot of the famous, incredibly beautiful Rose Valley, our specious terrace furnished with a Berber tent to add a nicely traditional touch, you can enjoy your meal under the sunlight and fascinating view of the landscapes.
Indoors
Indoors
Lounges or patio, decorated in a traditional style and Berber handcrafted furniture, clay walls art and the Berber carpets, just what you need to complete the typical image of your Moroccan meal. The lounge is equipped with a fireplace for winter evenings.
The cave
The cave
We offer a nice unique cave dinning room, cavern walls, decorated with Traditional Berber carpets and furniture, a true Bedouins experience where you can enjoy either a meal, or simply relax around the Moroccan mint tea.